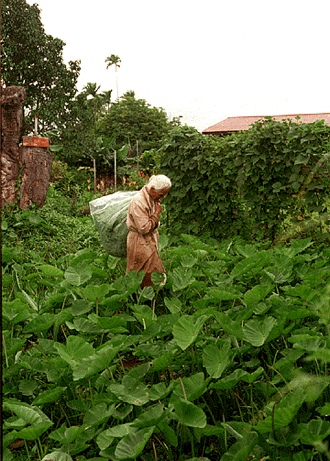 Ruth Makaila Nakagawa Kaholoa'a harvests a bag of taro leaves at her Big Island home.
A documentary chronicles the life of 91-year-old Ruth Kaholoa'a
Story by Catherine Kekoa Enomoto
Star-Bulletin
Photos by Ann Marie Kirk
Special to the Star-Bulletin
This is the story of Ruth - Tutu Ruth, that is.
She was born and raised, married, reared 13 children and grew taro for most of her 91 years in Waipi'o and Waimanu valleys.
Her simple life is the basis for a prize-winning, locally produced documentary - a 27-minute video haiku, as it were, with the tender nuances of the lilting Waipi'o melody, "Hi'ilawe."
The documentary, "Happy Birthday, Tutu Ruth," won the Gold Apple this past May from the National Media Network Market for educational media. The film - directed by Ann Marie Kirk and produced by Carlyn Tani - helps kick off the third annual Pacific Island Images Film Festival Wednesday through Sunday.
Ruth Makaila Nakagawa Kaholoa'a is a lithe woman, half Hawaiian, half Japanese. Despite gray hair, a weathered face and toothless grin, she has the body of a woman much, much younger.
Nearly a century of travails has not bent this woman; in fact, it has kept her resilient as the cliffs separating Waipi'o and Waimanu.
"You go there," she said of the trek between Waipi'o and neighboring Waimanu valley on the northeast coast of the Big Island, "you have to go over 12 mountains and 12 streams; that's very, very far."
Far is relative, for Tutu Ruth used to climb a 40-foot precipice while carrying a 100-pound bag of 'opihi, which she would pick to barter for food for her family.
As a girl she wore panties made out of rice bags, and she never met her dad until she was much older.
"My father left us when we were all small," she said in lively pidgin during a phone interview from her Hilo home. "We never see our father till I got married. In Kamuela I found my father ready to go (to) Japan, but I don't know what happened between him and my mother.
"Only me, I wen' found him with my kid brother. The others (two siblings) never see his face. We wen' (eight miles) from Mana to Kamuela. We walk, walk, walk on the road till we got our father.
"You know why, the love. I had love for my father. I wanted to see him badly. I asked, 'Where is that Nakagawa.'
"When I found him I feel good. He asked me so many questions, but in that time when I saw him, I did not tell him I was the daughter. He said to me, 'I married once. I get four pepe (babies).' He mentioned all four children. Then, when he said 'Makaila,' I started crying. He said, 'Pehea 'oe uwe?' in Hawaiian - Why are you cry? So I did not say anyt'ing. Then I told him, 'You is our father'; you see, because I have love for him.
"If I never go find my father with my kid brother, we don't know what kind man he is. We never even meet our father; that's the sad part of our life. My father must not do that. You see, he wasn't good to my mom or to us."
Today her life is full of family. The film records last summer's 90th birthday gathering of Tutu Ruth's 13 children, 52 grandchildren, 76 great-grandchildren and seven great-great-grandchildren.
"Gee, you know, I wish I can live some years," she said wistfully. "I wish I can live two or three more years so I can see my grandchildren grow up and know me. That's why I like stay a little bit more long, if God permits and provided I must be good, you know. But if He gotta take me go, that's OK."
The veins and lines on Tutu Ruth's hands map out her life.
She continues to tend her taro paddies at least 4-1/2 hours daily. She reads without glasses. She is strong, healthy and lucid, except for an enlarged heart and high cholesterol. She still insists on walking rather than riding down the road into Waipi'o.
Tutu Ruth represents many women of her time who sacrificed much, who labored long, whose rewards have been simple - but who achieved a quality of life where each moment is replete with work, commitment and family.
How can birthday candles measure a lifetime?
How can one measure the worth of a haiku?
In her 27-minute film debut, Tutu Ruth uplifts the spirit and transports one to the beauty and richness in, and below the surface of, Waipi'o.