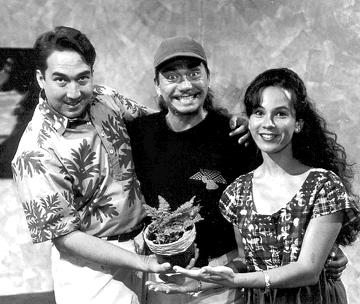 From left, Manuwai Peters, Keali'i Reichel and
Leilani Poli'ahu are on TV Wednesday and Sunday
Talk show is
Hawaiian-language gab fest
By Catherine Kekoa Enomoto
Star-Bulletin
Manuwai Peters and Leilani Poli'ahu are the Jay Leno and Oprah Winfrey of Hawaiian-language television.
Peters and Poli'ahu's new Hawaiian-language interview show "Ke Kupu Nei" (Sprouting Forth) airs 7 p.m. Wednesdays and repeats 8:30 p.m. Sundays on Channel 52 (Channel 22 in Hawaii-Kai).
Their guest Christmas Day is Keali'i Reichel, Na Hokuhanohano Award-winning recording artist, composer, kumu hula, chanter and Hawaiian-language teacher. Did Reichel give a news scoop in Hawaiian?
"Keali'i had a good one," Peters recalled. "He just signed a recording contract with Atlantic Records and he plans a duet with popular Canadian singer Celine Dion. Atlantic had asked him to choose a leading lady for a duet and he was trying to decide between Mariah Carey and Whitney Houston. He picked Celine Dion."
Other celebrity guests and initial show dates include:
New Year's Day - Kanoelani Aberegg Naone, 1993 Miss Hawaii, a teacher and parent of a Hawaiian-language immersion student.
Jan. 13 - Hau'oli Akaka, member of the musical group Kolonahe; co-host of the Hawaiian-language radio show "Ka Leo O Hawai'i"; Hawaiian-language and music teacher at Kailua High School; vice president of 'Ahuhui 'Olelo Hawai'i, a Hawaiian-language resource group; and also a parent of Hawaiian-language immersion students.
Jan. 29 - Ka'onohilani Farias, 1994 Miss Aloha Hula, Hawaiian-language teacher and daughter of entertainer Karen Keawehawai'i.
Akaka said the show was the idea of University of Hawaii instructors Puakea Nogelmeier and Makalapua Ka'awa - "a sort of more hip talk show to attract young people currently studying and speaking Hawaiian. It's a neat idea," Akaka said. "I teach high school and I know young people are really turned on by things of that nature."
"Ke Kupu Nei" co-host Peters is a UH Hawaiian studies instructor and former Hawaiian-language immersion teacher at Molokai's Kualapu'u School. Co-host Poli'ahu is an immersion kindergarten teacher at Anuenue School. The producer is 25-year-old UH graduate student Keali'i Tongg; the director/producer is award-winning videographer Ann Marie Kirk; and the sponsor is 'Ahahui 'Olelo Hawai'i.
Kaipo Kukahiko and Puni Freitas Kukahiko, both 21, host "Na Manu O Ke Ao" (The Birds of the Day, referring to contemporary Hawaiian-language speakers) next month. The magazine format show will have features, storytelling and book reviews.