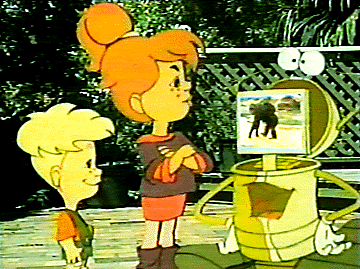 'Smart' is what you'll be after
watching a new Hawaiian-language
Science TV series
By Catherine Kekoa Enomoto
Star-Bulletin
An unprecedented Hawaiian-language science series premieres tomorrow on cable television. "Ke Ao Nei" (To Be Enlightened) is a state Department of Education show aimed at students learning and speaking Hawaiian.
Cartoon characters pop in and out of the eight-part series, whose lively first segment features na holoholona (animals). Programs delight adults as well as children. Hearing Hawaiian words coming out of the mouths of cartoon figures gives viewers a unique sensation.
"The first one I watched about three times and I still crack up," said DOE education specialist Puanani Wilhelm, who serves a dual role as show producer and the voice of the cartoon character, Nani. "It's Hawaiian-language programming that no one has seen ever before.
"I was telling the engineer who does the technical editing, 'Do you know you're participating in a historic event? This is the first programming geared toward children in the Hawaiian language.' He looked kind of unimpressed, but I think it's history making in ways. It's going to be something not seen in the DOE, let alone in Hawaii; so it'll be fabulous."
Pulama Collier hosts with other cartoon voices by Kalama Cabigon as Alika, and Mahakoa Lujan as a robot, Keao. Other segments explore "my house," medicine, robots, transportation, the solar system, feeding the world, and water.
"Oh, it was pure fun. It was a new experience for me," said Collier, who teaches 9th grade in Ke Kula Kaiapuni (Hawaiian-language immersion program) at Kekaulike High School in Kula, Maui. She flew to Honolulu for three weekends for the show tapings.
"I didn't audition for the part (of host). The producer and person (Wilhelm) who came up with this idea worked with me for about a year and she thought my personality fit the role," said Collier, 28, a St. Francis High graduate who majored in Hawaiian language and anthropology at the University of Hawaii.
"I have to do so many different things, weird stuff. It's kind of like 'Bill Nye, the Science Guy' (4 p.m. weekdays on KHET). She needed someone flexible and who would be willing pretty much to do anything; so they picked me. It's so much fun. This is my TV debut, yes, but don't let it go 'round."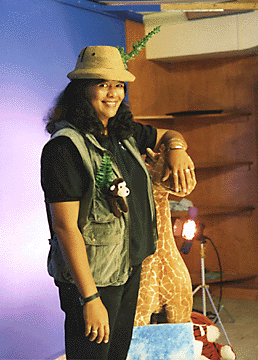 "Ke Ao Nei" host Pulama Collier says her role
requires her to do "weird stuff' and to remain flexible.