Film charts rich heritage of royals surf haven

It was a short walk from our home to the narrow little beaches on the Ewa side of the Diamond Head lookout, but for family beach days we'd pile in the car and head for Waikiki. My grandmother preferred a beach with style.
This was in the 1950s, before the era of mass tourism and densely packed high-rise hotels. Although the beach cottages of Hawaiian royalty were long gone, something of their romance and glamour still graced Waikiki along with the tradewinds that circulated freely, bearing music and the scent of flowers from sidewalk lei stands.
We'd spread our towels and mats among the pale visitors on the sand between the Royal Hawaiian Hotel and the original Outrigger Canoe Club. Although I was only 3, I remember feeling self-conscious and out of place, as if we local folks were playing tourist in our hometown.
Not yet a swimmer, I lay in the gentle shore wash and watched bubbles rising from the wet sand. Only now have I come to realize these were upwellings of the fresh water that gave Waikiki its name.
"If you feel cold water when you're surfing or swimming at Waikiki, that's spring water," said John Clark, author of "Hawaiian Surfing" and nine other books, in "Ka'ahele Ma Waikiki," a wonderful new film he made with Ann Marie Kirk, award-winning documentary filmmaker of "The Hawaiian Room" and "Kai Wahine."
In the early 20th century, before the Ala Wai Canal was dredged between 1921 and 1928, surfers could rinse off in one of the streams that flowed down to the shores of Waikiki from the Manoa watershed, Clark said. The 50-minute film contains footage of Waikiki surfers in 1913 and of Duke Kahanamoku paddling out to Queen's with his youthful entourage in the 1960s.
Clark and Kirk are surfers of Native Hawaiian descent, and their understated, beautifully shot film runs deep with cultural heritage and love for "this bay, this amphitheater of surfing," as Clark, the film's narrator, describes it.
Filled with stunning aerial tracking shots of majestic, smokin'-big South Shore waves, "Ka'ahele Ma Waikiki" also provides a fluid overview of the district's landmarks and history.
We learn that the bay of Waikiki is bounded by Leahi (Diamond Head) to the east and the Waikiki Sheraton to the west. While most of its beach sand has eroded away and been replaced with sand from elsewhere, the coral sands of Kapua, the area that includes Kaimana Beach, are original to this shore.
Old Man's, the break in front of today's Outrigger Canoe Club, was first named Kapua, which means "flower" but also the white kapa ball used as a buoy used in traditional Hawaiian surfing contests. Castles, the break where Duke Kahanamoku took off on his mile-long ride all the way to Kapuni (Queen's), was named for the family whose mansion stood on the beach. Its Hawaiian name is Kalehuawehe ("lehua is the flower of surfing"). Publics, on the other side of the Natatorium, is named for the public baths for local residents that once lined the shore; its Hawaiian name is Aiwohi.
We learn that Princess Ka'iulani, who grew up in the district of Hamohamo on the Ewa side of the stream that is now Kapahulu Avenue, surfed big waves on her board and in a canoe. Queen Lili'uokalani liked to sit at the end of a pier in front of her beach cottage and watch surfers, who named Queen's Surf for her.
"Back in the day, surfing was a national pastime," Clark said. "Everybody believed in ohana waves" shared with family and friends — up to a point: "When the alii went in the water, the makaainana (commoners) got out."
The film shows every form of surfing the Hawaiians enjoyed: surfboarding, canoe surfing, bodysurfing, paipo boarding (a sport Clark practices at Publics), sand skimming on a board or one's naked chest. Then there's inflated-pillowcase riding (an invention of the mid-20th century).
Despite all the changes it has seen, Waikiki, for surfers, remains a blessed place. Somehow its waves have retained their alluring shape and its waters their incomparable turquoise hue.
"Ka'ahele Ma Waikiki," which was commissioned by the state Department of Education, will be shown in a free public screening, followed by a Q&A with Clark, from 6 to 8:30 p.m. Friday at Thomas Jefferson Elementary School, 324 Kapahulu Ave. Brings mats or low chairs for seating.
"In the Lineup" features Hawaii's oceangoers and their regular hangouts, from the beach to the deep blue sea. Reach Mindy Pennybacker at mpennybacker@staradvertiser.comor call 529-4772.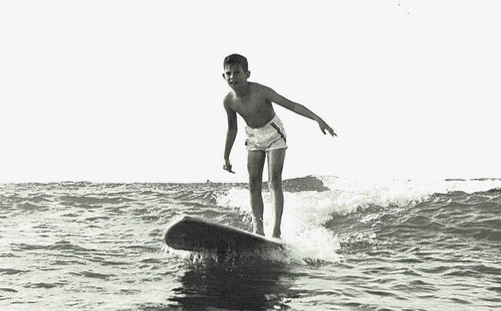 John Clark surfing at the Canoes break in Waikiki in 1954.